Wild Bill's offers more canoes, kayaks, rafts, tubes and fishing boats than any other outfitter. This section of the river is class I and little or no experience is needed when conditions are favorable.
For first time floaters, we offer floating instructions. For those that would prefer more, we can offer an experienced guide. For those who have their own watercraft, we offer shuttle service.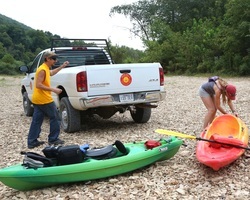 Floating the Buffalo National River
Experience the beauty and wonder of the free-flowing Buffalo National River, America's First National River. You will drift past sculptured bluffs that shelter clear and inviting pools. Teaming with more species of fish, 74 documented, than almost any stream in America.
During Autumn, you will find the brilliant colors of fall foliage. During winter, you'll be dazzled by the snowy, glittering landscape decorated by crystal icicles. During Spring, you will see multi-colored flowers with dogwoods and redbuds in bloom. During Summer, you will enjoy blue skies above and cool water below.
For Buffalo National River trips, CHILDREN SHOULD BE AT LEAST AGE 5 AND OLDER, any time, 12 AND OLDER AT HIGHER LEVELS. 12 and under must wear personal floatation devices (PFDs) [State Law] at all times and be carefully supervised anytime around or on a body of water.
We assume that when you rent a boat(s), you have carefully considered who the members of your party are and the risks associated with them coming along. If you have any doubts as to whether or not your kids should float, especially young tots and pre-schoolers, consider enjoying time with them at one of the river's pretty swimming holes, where they can splash at water's edge or, if old enough, go swimming. And, even at a swimming hole, a snugged-on PFD and adult supervision are a must.