Canoe, Kayak, Boat & Raft Rentals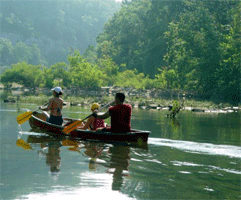 Floating the Buffalo National River
Wild Bill's offers more canoes, kayaks, rafts, tubes and fishing boats than any other outfitter. The lower Buffalo National River is rated class 1, ideal for inexperienced floaters when conditions are favorable. We offer basic floating instruction for first time floaters. Those that would prefer more assistance can hire one of our experienced guides.
For those who have their own watercraft, we offer private shuttle service.
Experience the beauty and wonder of "The Buffalo National River", America's First National River. Multiple day float trips are available for the entire Buffalo River and more.
For Buffalo National River trips, CHILDREN SHOULD BE AT LEAST AGE 5 AND OLDER, any time, 12 AND OLDER AT HIGHER LEVELS. 12 and under must wear personal floatation devices (PFDs) [State Law] at all times and be carefully supervised anytime around or on a body of water.
We assume that when you rent a boat(s), you have carefully considered who the members of your party are and the risks associated with them coming along. If you have any doubts as to whether or not your kids should float, especially young tots and pre-schoolers, consider enjoying time with them at one of the river's pretty swimming holes, where they can splash at water's edge or, if old enough, go swimming. And, even at a swimming hole, a snugged-on PFD and adult supervision are a must.
Call our knowledgeable personnel at 800-554-8657 and they will be happy to assist you in planning your trip.
Watercraft Rental Rates (For Most Day Trips)
(10% Discount offered to Scouts and Active Military-Veteran with ID)
Starting Jan. 1, 2023
Canoe Rentals
1 - 5 canoes-$63.00 per canoe
6 - 14 canoes-$60.00 per canoe
15 or more canoes are $57.00 per canoe
8.00 per person shuttle fee
plus tax
Raft Rentals
1 - 4 people is $150.00
$35.00 per additional person
plus tax
8.00 per person shuttle fee
Kayak Rentals
1 - 5 kayaks- $63.00 per kayak
6 -14 kayaks- $60.00 per kayak
15 or more kayaks- $57.00 per kayak
8.00 per person shuttle fee
plus tax
Over night - multi day trips, Please call for prices.
Tubes
$10 Per day
(all prices plus tax)
Jon Boat Rentals
Please call 870-449-6235 or 1-800-554-8657 for information on Jon boat rentals.
Private Shuttle Services
Private shuttling of vehicles, boats, or people vary in price according to the logistics of the trip - please call for pricing.
We have a 14-day cancellation policy on canoe-kayak-raft rentals. Cancellations more than 14 days prior to your reservation date will be charged a 10% cancellation fee. Cancellations less than 14 days will be charged the full amount, or if you do not use all the water craft you reserved. (especially on weekends)
We float rain or shine!
If the river is high and closed, we will do a refund or rain check (good for that season).
If the weather is severe, we will do a rain check.
Click here to download the Buffalo National River comment form.